The National and Kapodistrian University of Athens (NKUA) presented the work of the RESILOC semantic framework at the 4th Scientific Forum for Disaster Risk Reduction (HDRRF) in Greece.

It exposed the concept of bringing conclusive vulnerability assessments to the community level by using semantic analysis to the both scientists and practitioners from university institutions, research centers business bodies, and also services of the wider public sector at a national level. While the focus of the presentation was on the reduction of vulnerability on natural disasters using semantic analysis, the logic applies that a reduction of vulnerability will increase the resilience. The team of the NKUA engaged in the conference to describe the needs and options of using semantic analysis to apply the assessment to the local community level.
The ambition was to address the complexity of resilience on the one side and the often times limited availability of data at local level on the other. This is one of the gaps that RESILOC is aiming to close with the development of its tools and the process of performing local resilience assessments.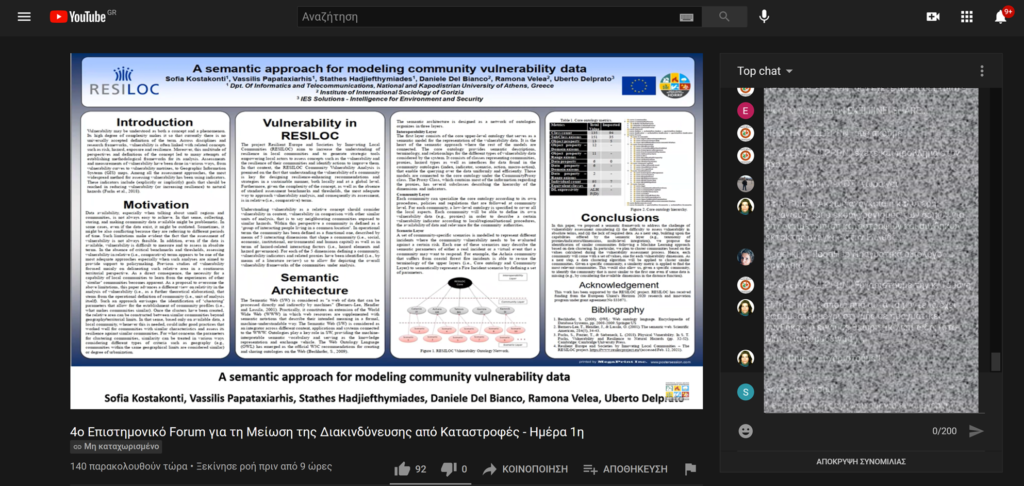 The work was presented in the form of a poster presentation in between speeches during the event and all participants were able to pose questions through the live chat feature of the streaming platform. The contribution to the conference was a significant exposure of the project's ambitions as many of those that were present are potential end-users of the RESILOC Platform.