Katja Banovec Juroš, Administration for Civil Protection and Disaster Relief of the Republic of Slovenia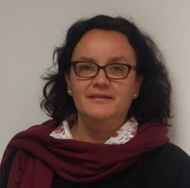 Katja Banovec Juroš has worked at the Administration for Civil Protection and Disaster Relief (ACCRA) since 1996. With a B.Sc. in Informatics, she began to work on the development of Geographic Information System for Civil Protection, an IT system to support response to 112 emergency calls, a national reporting system on incidents in Slovenia and others. She also serves as a National focal point for Copernicus EMS. She was an active participant in more than ten EU projects, leading some of them representing ACPDR in the international environment. In 2015 she became a National Focal Point for Slovenia on behalf of the Sendai Framework for Disaster Risk Reduction and in 2017 a Coordinator of the National Platform for Disaster Risk Reduction. Her experiences with Sendai Framework monitoring & reporting have been presented at several international and global events in the last years.
In RESILOC, she acts as both the lead partner for ACPDR and the "User Representative" for the 5 communities featured in the project.
INTERVIEW:
Katja, you function as the senior advisor for disaster risk reduction and a national focal point for Sendai Framework for Disaster Risk Reduction; where would you place the concept of resilience in your line of work these days?
Resilience is becoming one of our focuses in efforts to enhance societal stability in Slovenian cities and communities. The global COVID-19 pandemic is a sad but very self-explanatory example of the importance of addressing this aspect. It shows us that the resilience of society is based on the resilience of an individual. This should be effectively "upgraded" to the resilience of the societal systems and structures by applying complex, inclusive and effective means and approaches.
So, you are working on a national framework for societal resilience?
Yes, in our case, the observed system is a society with its own dynamics, which makes the challenges even more demanding because it shows that disaster risk reduction is everyone's business. It is important to consider resilience from the global perspective. That is demanding but it allows us to deal with the complexity of disaster risk reduction in a changing world. Fortunately, the national framework you mentioned was already halfway there. The central motto of our 'Agenda 2030' is "Leaving no one behind" and the Sendai Framework for Disaster Risk Reduction provided us with a good guideline for the necessary change in the DRR paradigm.
Could you explain further?
Sure, with the Sendai Framework for Disaster Risk Reduction, the focus was moved from disaster management to risk management and building resilience is the logical next step forward.
You also represent the Slovenian Civil Protection Services, as a partner in the H2020 funded RESILOC Project. Can you tell us how this will support the paradigm shift towards resilience focused thinking?
Of course. RESILOC aims to develop methodologies and tools to assess local resilience and by doing so, provide a basis for further development of strategies to increase resilience for all. There are principally two perspectives on societal resilience that we embrace through the participation in RESILOC:
First there is the end-user perspective of local authorities facing the challenges of:
Resilience of systems requiring dynamic data collection and a complex, real-time management process, requiring systemic support.
The potentially subjective perception of resilience being optimised by qualitative measurements, making the RESILOC dynamic support components a very important part of the process.
Resilience as a "bottom up process" starting with the resilience of an individual which then evolves into the resilience of different social groups and communities, to be observed and addressed as "systems".
And then there is the institutional perspective that needs to maintain support mechanisms enabling local resilience by integrating the concepts and policies overarching local level challenges to national agendas. The RESILOC project offers the following contributions to these policy related requisitions:
Five EU municipalities of different size, stage of development and culture
Citizen awareness as a priority to be addressed with targeted communication and engagement strategies
Citizen behaviour in case of a disaster
In RESILOC, Local Resilience Teams (LRTs) were introduced to represent the voices of diverse stakeholders in the society. First responders, representatives of the authorities, civil society NGOs etc
Engagement of end-users representatives coordinated by user representatives to make the development of the solutions more focused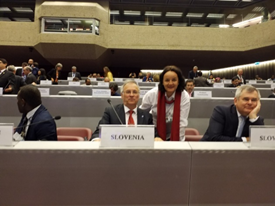 What do you expect from the project as an outcome for Slovenian communities?
Well, as I will be personally involved in co-creating the methodologies and tools of RESILOC in my role as the projects 'Practitioners' Representative', I am hoping to gain a solution I can offer our local community stakeholders to assess and improve their community resilience.
Local community managers can expect to receive a clear recommendation for the process of moving from traditional risk assessments to resilience assessments, including guidance on developing community specific resilience profiles and related strategies to maintain and improve such profiles.
Of course, this will not be a simple radar chart on the mayor's desk but a new boost to the capacity of generating local strategies and action plans.
Thank you Katja, we're truly grateful for your involvement and the clarity you bring to the user side of the RESILOC project.